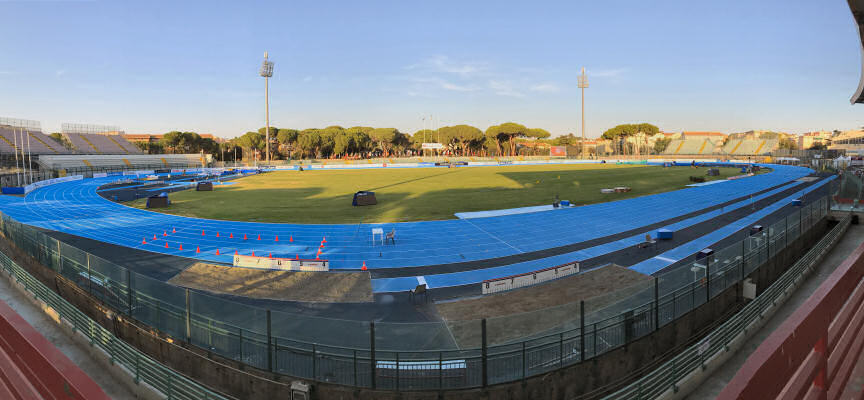 The last news, the starting list and the schedule
The long wait is over: Saturday 27 May the 13th edition of the Grifone Meeting will be staged at the Carlo Zecchini Stadium, an event that this year will change its name and move definitively to Grosseto thanks to the strong will of the Municipal Administration.
"Thid meeting fully represents the classic example of tourism and related sports" the Mayor of Grosseto Antonfrancesco Vivarelli Colonna had declared a few days ago during the presentation with the Meeting Director Elisabetta Artuso, words that in these hours appear more truthful than ever seeing the track and fields of the city stadium already crowded with athletes and staff who are completing their preparations for the event.
In the stands will be Larissa Iapichino, fresh from the recent 6.83m jump in Greece, the triple jumper Andy Diaz, who exploded right here in 2022, and the Ukrainian Iryna Lishchynska, Olympic and world silver in the 1500m.
Preview of Grifone Meeting at 3.30 pm with 100m Special Olympics, where the young talents of the Skeep association will be involved, then another 18 events which will see, especially in the middle distance, some of the best blue specialists including the European cross country champions Gaia Sabbatini and Federica del Buono, registered in the 800m (hours 17:20). Races to be circled in red also that of the men's 400m (17:00), where the blues Scotti, Benati and Meli find the European bronze Alex Haydock-Wilson, and that of the women's auction (17:00), with the Italian record holder Roberta Bruni and that Norwegian Lene Retzius. At the end of the meeting, the 100m with the Jamaican, Olympic silver in the 4x100m at Rio 2016, Sashalee Forbes, who fell under 11″ a few days ago in Bermuda, and her compatriot Oshane Bailey, looking for the first sub-10″ of her career.
Among the latest new entries we note the presence of the 2021 Irish Champion John Fitzsimons in the 800m, an athlete who won the Under 20 European bronze in 2017 in Grosseto, and the italian Yassin Bouih in the 1500m, also in the formation that won gold in the relay at the last Eurocross.
Grifone Meeting on TV: broadcast live on Atletica.tv, summary on RaiSport (Channel 58) on Sunday 28 May from 18.45 to 20.00.
HERE the starting list
Schedule
15:30 – 100m Special Olympics
15:40 – 100m F (B)
15:50 – 200m F (National)
16:00 – Opening Cerimony
16:30 – 100hs
16:35 – High Jump F
16:45 – 100m M (B)
16:50 – Long Jump F
17:00 – Pole Vault F
17:00 – 400m M
17:10 – 800m F
17:20 – 800m M
17:30 – 200m M
17:40 – 1500m F
17:50 – 1500m M
17:50 – Long Jump M
18:00 – 5000m F
18:20 – 3000m M
18:35 – 100m F
18:40 – 100m M